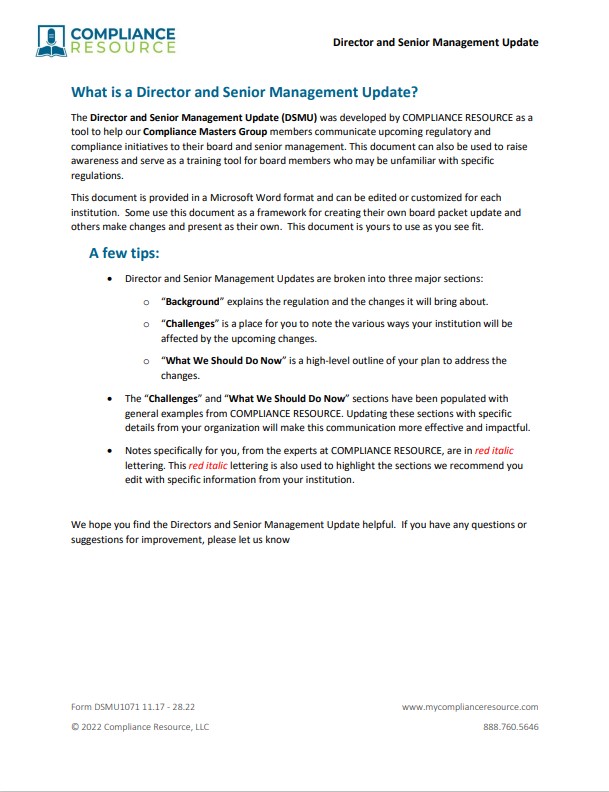 Free Download
Section 1071 Director Update
Download the Section 1071 Director and Senior Management Update (DSMU) to communicate more effectively with your board and senior leadership teams
The changes to Reg B and the implementation of Section 1071 of Dodd-Frank will likely be the most challenging compliance initiative financial institutions have faced decades. Clearly and effectively transmitting how this will impact your institution is critical. With this in mind, we've developed the Section 1071 Director and Senior Management Update.
The Director and Senior Management Update (DSMU) was developed by COMPLIANCE RESOURCE as a tool to help our clients and Compliance Masters Group members communicate upcoming regulatory and compliance initiatives to their board and senior management.
This editable document can also be used to raise awareness and serve as a training tool for board members who may be unfamiliar with specific regulations.
Inside you'll find:
A brief cover-letter explaining the purpose of the DSMU, how it can be used, and a few helpful tips.

An easy-to-use and completely editable template broken breaking down the most pertinent elements of the regulation for your Board and senior leadership teams.

A breakdown of the compliance effective dates, recordkeeping requirements, and an initial risk assessment.
Download this Free DSMU and begin preparing today!
DOWNLOAD THE COMPLIMENTARY DSMU
Interested in learning more about Section 1071?
Your Ultimate Section 1071 Resource
The final rule implementing Section 1071 of Dodd-Frank is complex and presents compliance departments with the largest compliance initiative in years. Given the final rules size, intent, and complexity there are many opportunities for misstep. COMPLIANCE RESOURCE can help ensure you meet the requirements of Section 1071 and Small Business Data Collection effectively. On the Ultimate Section 1071 Resource page you'll find a curated listing of all 1071 products, services, and training we offer.