Find the right regulatory compliance resource today.
Free Fair Lending Checklist
Get this free Fair Lending compliance checklist for a snapshot of your institution's strengths and weaknesses.
List of Fair Lending Regulations
Download a free list of Fair Lending regulations, including short descriptions, to support your compliance.
CD Activity Tracker Sheets
Get three free spreadsheets to track your Community Development lending, investments, donations, and more.
Section 1071 White Paper
Download the free Section 1071 white paper to learn implications of the Small Business Data Collection Requirements.
Section 1071 Director & Sr. Mgmt Update
Get this free Section 1071 Director Update to share with your Directors and Senior Management team.
Section 1071 DIY Risk Evaluation
Get the exclusive opportunity to assess and mitigate risks with our free DIY Section 1071 Risk Evaluation.
Section 1071 FAQs for Compliance Pros
View this recorded session addressing common questions and answers about Section 1071.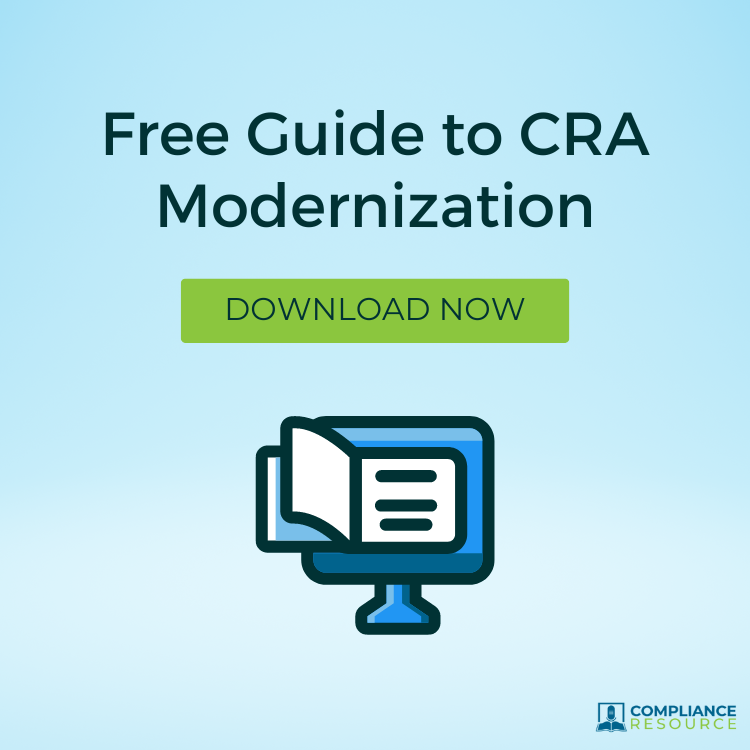 Free Guide to CRA Modernization
COMING SOON


TRID FAQs on Lender Credits
Download this free TRID FAQ, covering common questions about Lending Credits (and more)!
Free BSA/AML Checklist
Get this free Bank Secrecy Act / Anti Money Laundering compliance checklist for a snapshot of your institution's performance.
BSA/AML Compliance Training
We offer a complete suite of regulatory compliance training for BSA/AML. Explore on-demand sessions today!
BSA/AML Blog Articles
Explore recent BSA/AML blog articles and compliance updates, from our team of compliance experts to you!
We're not the only source of great regulatory compliance resources. Here are a few other great resources from around the web: